Brain Logic Plus
This supplement improves working memory, focus and cognitive functions in as little as one hour
Phone to lock in your deal by quoting Promo-Code "76"
0861-114-365
So it's never been easier to keep track of the
exact names, appointments and details
you need to remember!
Can you imagine? In the time it takes to watch your daily favourite TV show series, you could already FEEL more alert and focused…with more mental energy than you've had in years.
There's just one problem.
Turn up your mental focus…
and improve your memory recall…
in as little as ONE HOUR
The results show that with this breakthrough, you could be able to express yourself more clearly, with the right words at the right time…
You could be able to recount to your loved one the hilarious one-liners your grandchild had at the park last Tuesday…
And you could have no trouble remembering the list of instructions your doctor gave you at your checkup earlier this month.
My name is Annabel Koffman, and I've had the privilege of working with one of the world's leading physicians, who's already brought countless natural breakthroughs like this to the US, and now to South Africa – Dr Fred Pescatore.
He's introduced many of these discoveries on the Today show, Good Morning America, and the FOX News network, as well as through his six best-selling books.
But today, he's revealing all the details about what this plant can do right here.
Dr Fred is tired of seeing the same stale "memory advice" being doled out to patients over 55:
"Try ginkgo."
"Start a new hobby."
And of course… "Do crossword puzzles."
Everybody talks about crossword puzzles.
But is that really the best we can do – after all this time?
Of course, the answer is NO…as Dr Fred is proving right now to his patients.
In fact, he's the first physician in the US to use this Bavarian plant in his clinic, to help…
First, I want you to think about the
most precious memories you have…
Those defining moments of your life when you truly felt "It just doesn't get any better than this…"
Like the first time your dad handed you the keys to his old Beetle and you cruised down Main Street with your best friend in the passenger seat…
Or that electric moment on your wedding day, when the veil was lifted and your eyes met…
Now, remember the overwhelming pride you felt when you held your newborn baby in your arms for the very first time…and felt his tiny little fingers grip your thumb.
These memories are a part of who you are – they're sacred.
1. Unshakable focus…
The kind of alert vigilance you might expect from an Olympic sprinter who's poised at the starting line before the most important race of his life.
Or the same steady concentration you had when you were studying for school exams…or teaching your eldest how to drive - not crash - the family car.
It's easy to overlook this…but you know as well as I do that the side effects of having "weak focus" are all-too-real.
Dr Fred has seen this with so many of his patients… They roam through their day distracted…frazzled…struggling to "get things done."
They don't realise this lack of focus is a natural symptom of an ageing brain – something scientists call "Cognitive Ageing."
Maybe it's happened to you… and you wonder why it's so hard now to hang on to your mental energy when you really need it.
The good news is, FSPNutritional Brain Logic Plus can make it much easier.
Within one short hour, you'll be back to thinking…
After just 60 minutes with FSPNutritionals' Brain Logic Plus,
2. High-performance memory
Easily recall the exact names, dates, places, details, and passwords you need…
Right when you need them.
This is one BIG reason why FSPNutritionals Brain Logic Plus is so groundbreaking…and why Dr Fred recommends it if you want to stay as sharp as your trusty Swiss Army knife…
Brand-new in vitro research shows us that Melissa officinalis can activate a very tiny, very powerful type of brain cell called M1 receptors.
It has a unique way of "switching on" your M1s, to help give you…
Who would have thought one
green Bavarian plant
could make a difference
in so many areas of your life?
And there's still so much more…
Turns out Melissa officinalis was carefully studied for another priceless "brain benefit"…
And passed with flying colours:
4. A rapid-fire BOOST in
"Working Memory"!
And again, this effect is measurable after just ONE hour.
If you've never heard of Working Memory before, think of it like your brain's "computer power."
It's the type of memory you use to keep track of NEW facts, figures, and important details about the world around you – no matter how small…
You use it when you're figuring out the tip for your waitress…or keeping track of the count on the golfcourse…or remembering which ingredients you've already added to the pan when you're cooking.
And a dramatic boost in working memory could certainly make it easier to remember where you parked your car at the mall.
No one knows this better than the world's chief expert on natural neuro-boosters – Dr Andrew Scholey – who personally led much of the incredible research you're seeing here today.
In a groundbreaking study last year with his neurology team at Swinburne University, Dr Scholey tested this extract in an unusual way.
First he mixed Melissa officinalis with a bit of fruit sweetener and asked 25 people, ages 18 to 39, to drink it.
After just one hour, the people who drank it saw a 13.5% improvement in their memory scores!
Can you imagine being able to feel your memory improve that quickly?
But that's not the only test Dr Scholey did. Remember that yoghurt study from earlier? Well, it had a couple of interesting twists to it…
My favourite was a demanding "mental stress test," to see whether Melissa officinalis had any effect on the brain's ability to do math under pressure.
To get through this test, your brain is forced to juggle four things at once…with the added stress of being watched, graded, and timed!
Just take a look at this thing – figuring out where to start is challenging enough!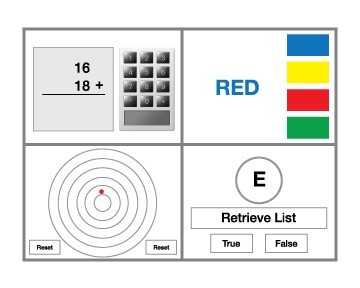 But for the group who got Melissa officinalis before the test, it was no sweat…
For starters, their mood was calm, cool, and collected, in spite of the pressure…
They were noticeably more alert a full HOUR after taking the extract…
And what's more, they sailed through the math test! Their performance was 38% better on average than those who did this without Melissa officinalis –after THREE hours!
So go ahead.
A secret ingredient that can take
this breakthrough to the next level…
It's a neuro-booster known as alpha-GPC.
Alpha-GPC is a form of choline – one of the most well-studied brain nutrients of all time.
From the very moment you're born, your body uses it to make something called acetylcholine – that's your brain's own natural, magic ingredient for quick, clear thinking.
In fact, the FDA believes choline is so vitally important for the brain that they made it a required ingredient in infant formula. It's illegal to leave it out.
For adults, Dr Fred recommends it because it can help keep the wiring in your brain:
Strong
Connected, and
Firing on ALL cylinders
But how?
For starters, the brain uses α-GPC to build cell membranes, which keeps your mental network strong and healthy.
Then, it increases the number of M1 receptors – the very brain cells Melissa officinalis likes to switch "on" for better learning and mental recall.
Best of all, studies show…
"What's that thingamajig called?"
"Have you seen what's-her-name…?"
And: "When did you say it was?"
…you can trade in those "memory misfires" for a life of:
Feeling alert and unshakably focused – instead of dusty, distracted, and mentally exhausted…
Better word recall – so you don't have to be embarrassed about stumbling over your words…
Faster, more efficient thinking – so you can continue to "dazzle the room" with your trademark wit at social events…and stay confident when you're weighing important decisions…
"Working memory" that's fresh and accurate – to help you easily learn, use, and remember new information…so you can plan and carry out your to-do list without effort…
And finally, it also helps you…
Keep the wiring in your brain strong, connected, and healthy…so you truly know what it's like to "fire on all cylinders"
FSPNutritionals' Brain Logic Plus is your lifeline for keeping your mind sharp, your memory bright, and your brain "young."
Just take it once a day,
and you're done!
It's so easy…
After just 1 hour, you can feel FSPNutritionals' Brain Logic Plus working…as your mind becomes clear, focused, and alert…
After just 1 week, you'll fully appreciate how good it feels to get that mental spark back quickly and easily…
You might even notice yourself drinking less coffee, instead of pouring a new cup every time you want to "dust off your thinking cap"…
The difference will be clear within one hour…
and get better over time
But there is one more thing you should know…
Unfortunately, you can't go down to your local grocery store and pick up any old bottle of lemon balm.
The research shows us it just won't have the same incredible power to make you feel like you're the smartest person in the room.
The lemon balm extract in FSPNutritionals' Brain Logic Plus is the only one that's been tested, verified and guaranteed to have the right components you need to make your ageing brain feel young again…
That's the best way to make sure
you're getting exactly what you pay for
Maybe you've tried a brain health supplement before…and were sorely disappointed with the results.
Maybe you took it every day like clockwork, but were still left wondering, "Is this even working?"
Unfortunately, if you have to ask…it probably isn't.
So maybe you've been wishing there was something more you could do than just cross your fingers and fill out a few crossword puzzles.
The good news is, Brain Logic Plus doesn't put you through that guessing game. The ingredients have been scientifically tested and shown to deliver…
And with the amount of science, research,
protected farming, and advanced testing that
goes into each and every bottle of FSPNutritionals' Brain Logic Plus…
You might think it would cost one or maybe even two thousand rand a month.
And at that rate, it would be a bargain, considering what a difference it can make for your memory and focus in just ONE hour.
But the good news is, today you can get Dr Fred's formula right here for less than R1,000.
This incredible brain-booster – with all the power of Melissa officinalis and α-GPC –regularly sells for R899.95.
But…
If you act quickly, you won't have to pay the full retail price.
Because this is the very first time FSPNutritionals' Brain Logic Plus is being released outside of Dr Fred's clinic, you have a chance to try it at a substantial savings.
You see, Dr Fred recommends getting started with a 2-month supply. That way, over the course of 60 days, you'll be giving yourself a chance to feel the long-term benefits as well as the fast-acting "Brain Logic Plus Boost."
Plus, it gives you some flexibility if you find that it works best for you to add in that second dose in the afternoon.
So when you add 2 bottles to your cart right now, you'll get an instant R100 discount applied to your order.
But there's one more secret you should know about this discount…
You'll save even more if you select the 4-month supply – and that's good news because you could experience better results in the long term.
Even though you'll feel the "Brain Logic Plus Boost" working within 1 hour, you can't experience total memory health in that amount of time.
It's just not physically possible – after all, your brain didn't age overnight. So you can't "de-age" it overnight, either.
So when you select 4 bottles today…your savings DOUBLE.

And, if you take 6 bottles today...your savings TRIPLE!
PLUS, you'll get FREE shipping…
And it just makes sense to take advantage of these savings, because FSPNutritionals' 100% Satisfaction Guarantee takes the worry out of it. (More on that in a moment.)
So order your supply now.
With this discount, FSPNutritionals' Brain Logic Plus can be yours for less than R27.00 a day… Less than what you'd spend on a large cappuccino. And coffee certainly can't do what FSPNutritionals' Brain Logic Plus can do!
You'll know it's working –
because you can feel it!
And you'll be ready to do, well, just about anything you set your mind to.
Dr Fred and I know FSPNutritionals' Brain Logic Plus has the power to change your life… just like it's changing the lives of his patients right now…and we want you to feel confident when you order today.
And that's why we've made sure you can try FSPNutritionals' Brain Logic Plus without worry.
Because you're fully protected by FSP Nutritional's 100% Satisfaction Guarantee…
That's right:
Place your order now and we'll ship
a fresh supply right to your door
as soon as we receive stock
I'd hate to hear later that you missed out on this incredible opportunity to feel more focused, alert, and "with it," starting in just ONE HOUR after your first dose of FSPNutritionals' Brain Logic Plus.
Order your supply today to get started. I can't wait to hear how Dr Fred's formula has helped you.
I'll bet you have one more question…
It's probably the same question I had even after I'd seen all of the impressive study results for myself…and after I'd traveled to Switzerland to meet with some of the best and brightest minds in natural medicine…
Why is it so important to grow this special variety of Melissa officinalis somewhat secretly in Bavaria?!
When I pressed my connections for details…I discovered something pretty impressive.
Turns out, the neuro-researchers who uncovered this rare lemon balm…and worked tirelessly to test, verify, and document its effects…have a good reason for being selective about who they share the details with…
They want to shield you from impostors by keeping their supply under tight control.
They're so serious about it that they test every…single…batch of Melissa officinalis to make sure it's active, and that it meets their exact specifications, from the size of the leaves to the unique composition of the essential phytonutrients.
They use an innovative scientific method of testing known as "bioassay guided technology."
The team's Managing Director, Dr Sybille Buchwald-Werner, explains that this testing is "introducing a new dimension of quality control." It's a way to confirm that all the brain-boosting components are actually there…and that you're getting exactly what you pay for…
The potent, powerful active
phytonutrients in
FSPNutritionals' Brain Logic Plus
that
can
improve
your working memory
in as little as ONE hour.
Plus, with a little prodding, I discovered that the makers of this special variety of Melissa officinalis created a backup system to protect their hard work.
They formed a carefully vetted private network of farmers to grow Melissa officinalis in ideal locations all across Germany…and they even started a second backup farm in another European country.
(I was able to get some insider intel on this during my trip – it's in Poland.)
Bottom line: Your supply of Melissa officinalis is safe and secure…and still protected by a bit of secrecy.
So don't miss out on your chance to experience the "memory marvel" you get in every dose of FSPNutritionals' Brain Logic Plus. Order your supply now.
And remember, your order comes with peace of mind, because you're fully protected by FSP Nutritional's 100% Satisfaction Guarantee.
FSPNutritionals' Brain Logic Plus is guaranteed to work for you - or you'll get your money back.
So why not go ahead and select the 2- 4- or 6-month supply right now and take advantage of these savings.

Recall events and conversations exactly the way they happened…
Stay focused and alert, even if you're under intense pressure to perform…
Plus it makes your thought patterns more efficient…as information flows effortlessly between neurons.
Signature Iron Clad Guarantee
Every bottle of FSPNutritionals' Brain Logic Plus is guaranteed to
improve your memory and mental focus -
if not, you can easily return it (even if the bottles are empty) for a refund of the full purchase price
Anytime within 60 days - we are so eager to unleash this breakthrough, we're making the decision as easy as possible for you (like everything else about this formula!).
If you ever question the worth of FSPNutritionals' Brain Logic Plus in your life (and you won't after experiencing it), justreturn your unused portion (even an empty bottle) and we'll refund your purchase price.
That's it. It can't get any simpler.